Fredrik Pacius was born in Hamburg on 19 March 1809. His father Johann Conrad Ludwig Pacius was a wine merchant and his mother was Maria Margaretha Schumacher. It is believed that the Pacius family is a branch of the Pazzis, an old Italian family of bankers and merchants. The Palazzo Pazzi, built in the 16th century, is found in Florence.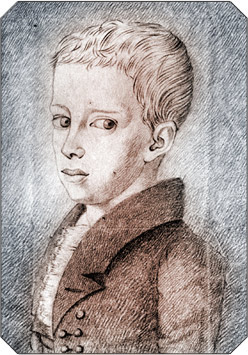 Self-portrait drawn by Fredrik Pacius
at the age of 12. Source: The National
Board of Antiquities of Finland.
Zoom +
From an early age, the boy who was nicknamed "Fritz" showed an interest in music. The family often played music together and Fritz could, for instance, join his family members and play quartets. He was also good at drawing and dancing, and was interested in languages.